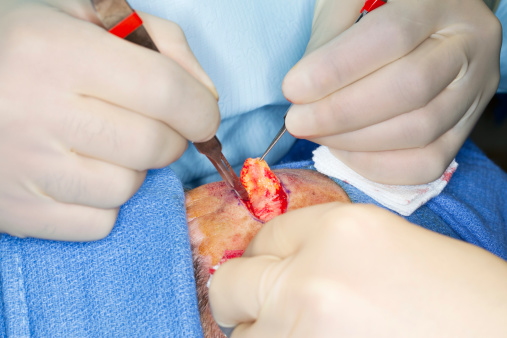 Mohs surgery is considered the most effective technique for treating many basal cell carcinomas (BCCs) and squamous cell carcinomas (SCCs), the two most common types of skin cancer. Sometimes called Mohs micrographic surgery, the procedure is done in stages, including lab work, while the patient waits. This allows the removal of all cancerous cells for the highest cure rate while sparing healthy tissue and leaving the smallest possible scar.
It began as a technique called chemosurgery, developed by Frederic E. Mohs, MD, in the late 1930s, but was not widely known. In the mid-1960s, Perry Robins, MD, studied the procedure with Dr. Mohs, and recognized that it had great potential for the field of dermatology. He brought the technique to NYU, where he established the first fellowship training program to teach dermatologists this skin cancer surgery. Dr. Robins helped advance the procedure into what is now called Mohs surgery and went on to teach and promote it around the world.
The procedure is done in stages, all in one visit, while the patient waits between each stage. After removing a layer of tissue, the surgeon examines it under a microscope in an on-site lab. If any cancer cells remain, the surgeon knows the exact area where they are and removes another layer of tissue from that precise location, while sparing as much healthy tissue as possible. The doctor repeats this process until no cancer cells remain.
Mohs surgery is the gold standard for treating many basal cell carcinomas (BCCs) and squamous cell carcinomas (SCCs), including those in cosmetically and functionally important areas around the eyes, nose, lips, ears, scalp, fingers, toes or genitals. Mohs is also recommended for BCCs or SCCs that are large, aggressive or growing rapidly, that have indistinct edges, or have recurred after previous treatment. Some surgeons are also successfully using Mohs surgery on certain cases of melanoma.
OmegaSkin™ is our all-natural plant-based human skin substitute derived from electrospun soy protein. OmegaSkin will be developed for wound management and has some distinct advantages over conventional dressings. OmegaSkin has been proven to heal full thickness wounds with minimal to no scarring, leaving intact hair follicles and sweat glands. These advantages should prove important to patients undergoing MOHS Surgery to maximize healing and a better appearance.